Denzel Washington is delivering another hit movie for Christmas!
Denzel Washington's big screen adaptation of August Wilson's "Fences" has arrived, and it's a definite Oscar winner!  That's hardly a surprise for a project based on Pulitzer Prize-winning source material that has landed major Tony Awards in two separate Broadway productions.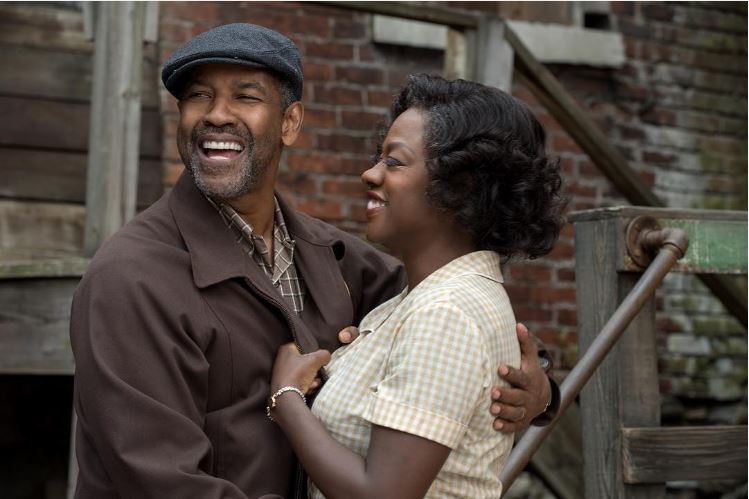 Denzel Washington & Viola Davis in 'Fences'
The film featured for industry audiences Saturday, screening in Westwood before a crowd that included Screen Actors Guild nominating committee members, Academy voters and press. Washington was on hand for a post-screening Q&A moderated by Variety's Jenelle Riley, along with co-stars Viola Davis, Stephen McKinley Henderson, Jovan Adepo, Russell Hornsby, Mykelti Williamson and Saniyya Sidney.
Via Variety:
When asked what drew him to the role of Troy Maxson, Washington let loose a chuckle and quipped, "The role of Troy Maxson." Indeed, when producer Scott Rudin first sent him the script for the film, which Wilson had penned himself, Washington wasn't interested in diving into it as a movie immediately. He wanted to work through the material on the stage first, which led to Rudin raising the money for the 2010 Broadway revival.
"August Wilson wrote a masterpiece," Washington said. "It's one of the great plays of all time. It's the gift that keeps on giving and as we found out, it works as a film as well."
Washington had directed Davis previously, in the 2002 film "Antwone Fisher." The actress said she considers herself "a friend and a fan," and spoke about how easy Washington made things for her and the other actors.
"The two things he said to us before we started was, 'Remember the love,' and the second thing he said, which is a frightening statement for actors, was, 'Trust me" — and we did," Davis said. "A lot of people don't know what to say to actors to unlock it. A lot of times they know what to do to keep it in there, and make you afraid, but not Denzel. He's a great leader. And he's an extraordinary man. He's a man of God and a man of great integrity, and I think it shows in his work."
This is going to be another amazing hit for Denzel Washington who has managed to bring together a magnificent group of actors and we all are looking forward to this performance.
Catch it in theaters this Christmas! The movie is scheduled to release December 25!